Polishing a Concrete Floor
Often we are asked how we polish concrete floors.  In this article I provide a very basic example of some of the tools used and the outcome of a past floor.
As with any flooring application, the first step is always to be sure the floor is perfectly clean.  Often times with concrete, the floor is old and has had a number of flooring products on it in its life.  In this case the adhesive must be removed to actually get to the concrete before any real cleaning can begin.  In the case bellow, a number of layers of glue is having to be removed with a 20″ planetary grinder with 30 grit metal diamonds.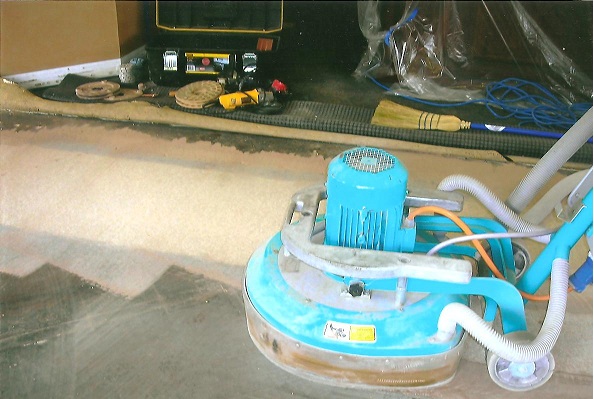 Much like sanding a hardwood floor, a number of different diamond grit pads are used on the machine working from a low grit diamond, to a higher grit diamond.  The process starts with 30 grit metals to 70 grit metals, then goes from 50 grit resin up to 3000 grit resin.  A floor is considered polished until you reach at least a 800 grit resin.
Note: Even if you have a floor you are considering having polished, the floor will still need to be gone over with a lesser grit diamond to open the floor up to accept a color.  The texture of the concrete has nothing to do with how open a floor is.  You could run your hand across rough concrete that is really tight, then feel smooth concrete that is very open.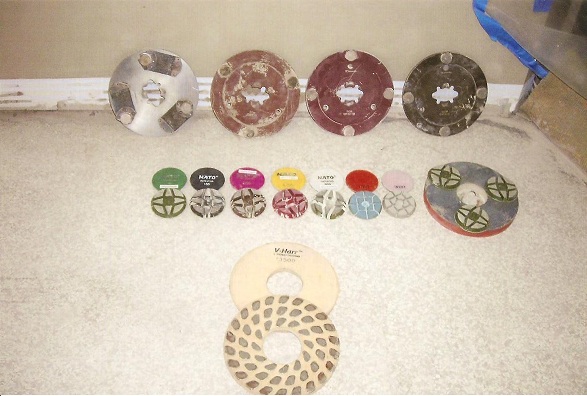 The different metal diamond and resin diamond pads attach to the bottom of the machine.
Here you can see test area we did for a customer that wanted to get an idea of the kind of finish the floor would have after completing all the steps.  It's important to note that the shine you are seeing is from polishing.  Not a sealer, water, or wax.  That was just a quick test changing out a few pads so the customer would get an idea of the finish.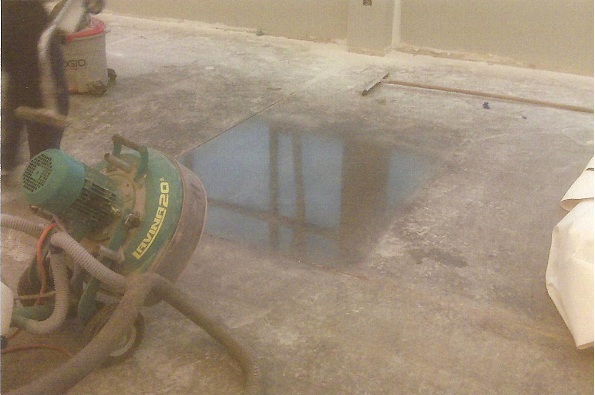 On the same project you can now see before and after pictures. Click on the Photo is see a Larger View.
Before – The Concrete, like most, wasn't clean and had paint and other material on it from past renovations.
After – As you can see, the floor cleaned up nice and created a great looking floor that will last for years to come.
You will notice a color was added into the flooring.  Adding color and design is totally up to the client.  Some like a more industrial look and choose to add no color, while others go for more of a earth tone look.  The look often times looks like huge slabs of polished granite or marble.  See the concrete polishing page for more pictures and color charts.
This is a very basic example of some of the tools used to polish concrete on the residential level.  Commercial and Industrial flooring requires much bigger machines, auto-scrubbers, pre-pour/pre-polish meetings, and a number of certifications from suppliers and manufactures.
Share